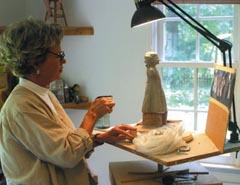 The portrait process begins with a 60 to 90 minute photo session. This is when I gather most of the information I need to begin, and sometimes to complete, the sculpture. I start by getting to know the subject, explaining to him/her the process we're beginning, and working with the subject and/or parent (if subject is a child) to choose a composition (pose) that both captures the nature of the individual and will result in a treasured work of art. Usually I will shoot two or three rolls of film, videotape the individual, make several sketches and take a number of measurements during this session.


Two to four weeks after the photo session, I often ask for a 30 to 45 minute sitting. Subsequent sittings are often desired if practical. At the point of completion, when the clay is still wet, I always request a final sitting where all interested parties can confirm the likeness and any fine adjustments can be made. If I know in advance that it will be difficult to arrange a sitting with a child or young adult, I will consider working with a parent alone to get the feedback I need to complete the portrait.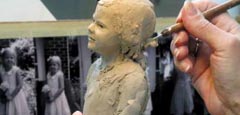 The sculpting process from initial photo session to final sitting takes approximately one to two months for all but the large, outdoor sculptures. Then the clay sculpture must carefully dry for another month before firing. At that point the terra cotta piece is ready to be finished, mounted on a base, and delivered.


If the sculpture is to be foundry-cast in bronze, approximately two to three additional months is required. A "mother mold" is created from my original sculpture. From this, one wax casting is made for each bronze ordered. This is an exact duplicate of my original, but in wax. The waxes are shipped to me for "chasing" or correcting and then returned to the foundry. A "waste mold" (called this because it will eventually be discarded) is constructed around each wax casting. Once done, the wax is melted out and hot, molten bronze poured in, creating a " lost wax" casting. The mold is then broken and the casting removed, chased, and patinaed. This entire process, from photo session to delivery, takes approximately 5 to 6 months.